Approved vs. Recorded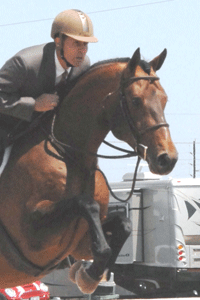 Confused about the difference between Stud Book I and II stallions? A little bit of history, and a clear distinction between the words APPROVED and RECORDED, will shed some light on what has been a confusing issue for many people.
Up until 1990, only approved (Gekoert) stallions were allowed for breeding use in Germany. German government laws forbid breeding with any other stallions. Since 1990 the rules of breeding of livestock have changed, and now follow the rules of the European Community. Since then there are two different books: Stallion Book I and Stallion Book II. What's the difference?
For a stallion to be in Stallion Book I, his sire must be Stallion Book I or eligible. He also must score at least 60 points or higher at his inspection to be entered into this book.
As far as Stallion Book II: a stallion gets RECORDED (NOT APPROVED) in this book when:
1. The sire is not in Book I or not eligible for this book.
2. And/or the dam is not in Main Mare Book/Mare Book I or not eligible.
3 The score at inspection is less than 60 points.

Stallions also may be placed in Stud Book II if they have not yet completed their 30-day test, and while waiting for the completion of their performance requirements. These stallions are eligible for upgrading to Stud Book I upon final completion of performance requirements.
The following statement applies only to Stud Book II - The word APPROVED should not be used or interpreted in any context with regard to stallions RECORDED in Stallion Book II.
So why get your stallion Recorded into Stud Book II? Only the offspring of Approved stallions in Stallion Book I and Recorded stallions in Stallion Book II are eligible to receive sire's full pedigree documentation in the passport. The advantages to breeders from the change to this system are:
1. All breeders and stallion owners are now free to make bloodline choices which were not possible under the previous rules.
2. All historical pedigree information is documented in the breeding.
The above information is being presented under the auspices of the governing body of the PRPS and RPSI registries.