Frequently Asked Questions
General Questions
1). Who is the Westfalen NA?
The Westfalen NA is the official North American extension of the German Verband, the Westfälisches Pferdestammbuch e.V.. For more information about the history of our registry visit our History of the RPSI page. The Westfalen NA is open to horses from all German-recognized Warmblood registries, as well as Thoroughbreds and Anglo-Arabians, and as the largest registry for German Riding Ponies in the world, also has books for ponies! Westfalen NA horses receive official passport-style registration papers from Germany, Microchip, Life Number and Westfalen brand, (if eligible for a brand by pedigree) are entered into the German database of sport horses (VIT). All horses registered from 2017 onward will receive Westfalen passports and breed-name. The RPSI will exist in order to provide Passport Services (Change Ownership, Duplicates, etc) and awards program to previously regisered RPSI horses (Deutsches Sportpferd/Zweibrücker). There will be no more RPSI registrations or inspections. Previously registered/inspected RPSI horses are eligible for entry in the equivalent books with the Westfalen registry.
1). Why should I choose to register Westfalen NA?
The Westfalen NA is one of the few registries operating in North America as a direct extension of its German counterpart. This means the Westfalen NA follows German rules, and foals born here are issued German Westfalen passports, just like foals born in Germany. So North American horses registered Westfalen are eligible to compete and breed in Germany, under the same rules as horses born in Germany, and breeders here get input and advice from the same German judges and officials who oversee the direction of sport horse breeding in Germany. Registered horses are also fully up-to-date and compliant with the new USEF Horse Identification rules, and all foals inspected from 2016 on will receive lifetime USEF numbers as well. North-American-bred horses and ponies are succeeding in sport and breeding both in N.A. as well as overseas. 2017 foals registered with Westfalen NA are eligible for our Select and Open Online Auction in the fall, and we are looking forward to the future successes of these N.A. bred Westfalens!
2). What brand will my foal get?
For 20 years the RPSI branded North American horses with the traditional 'bridge and crown' brand representing the Zweibrücker breed from the Rheinland Pfalz-Saar district in Germany. Starting in 2017, foals born in North America and registered with the Westfalen NA will receive the W brand of the Westfalen Verband.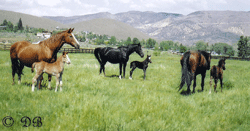 3). I'm registering my horse with USDF and USEF. Which breed do I select on their forms?
Remember all foals registered Westfalen NA will receive a complimentary USEF number! For USDF or for older horses registered Westfalen choose Westfalen or Westphalian as breed. For horses branded/registered RPSI prior to 2017 choose Rheinland Pfalz-Saar International (RPSI) for your organization. Choose the breed name which is printed on your horse's passport - for horses registered with RPSI prior to 2014, choose Zweibrücker. For horses registered RPSI between 2014 - 2016 choose Deutsches Sportpferd. For foals and horses registered from 2017 and later choose Westfalen (or Westphalian). For ponies choose German Riding Pony or Kleines Deutsches Reitpferd (KDR) - depending on which breed is listed on your horse's papers. For imported horses from one of the member registries of the South German Breeding Alliance (Bavarian WB (Bayern), Baden-Wuerttenberg, Sachsen-Thueringen, Brandenburg-Anhalt choose Rheinland Pfalz-Saar International (RPSI) for your awards organization.
4). Why should I become a member?
In order to register a horse with the Westfalen NA, or have your mare, stallion or foal inspected, you must become a member of Westfalen NA. In order to be eligible for USDF All Breeds Awards or USEF Performance Awards for your RPSI registered horse you must become a member as well. Membership in either Westfalen NA or RPSI will grant you privileges with both the Westfalen NA (for registrations and Westfalen awards programs beginning in 2018) and RPSI (for awards progrms for RPSI registered horses born prior to 2017). To learn more about benefits of membership, visit our Membership Page.
5). How do I become a member?
Fill out a Membership Application online, or Download a Printable Membership Form and fax it to the office at (605) 734-8060, or call the Westfalen NA headquarters at (605) 669-2200 to apply over the phone.
6). Will I be eligible for USEF and USDF year end awards?
Yes, though you must declare your horse's breed (Deutsches Sportpferd / Zweibrücker for horses registered with RPSI 2016 and earlier, Westfalen for horses registered 2017 and after) and registry (RPSI) with both the USDF and USEF organisations (visit our Change of Ownership page for more information about declaring). Also, to be eligible for Hunter, Jumper or Eventing Awards through USEF you must fill out and send in our USEF Performance Awards Application. For more information and the downloadable form please vist our Awards page.
Inspection/Registration Questions
1). Which breeds of horses do you accept?
Any Warmblood registered with a recognized warmblood breeding association, such as German Oldenburg Verband (GOV), Hanoverian, Holsteiner, Trakehner, Swedish Warmblood, Dutch Warmblood, Belgian Warmblood, sBs Registry, Oldenburg NA/ISR, Rhineland, Deutsches Sportpferd, Zweibrucker, Westfalen. Thoroughbred (Jockey Club)and Anglo-Arabian horses are also eligible for entry into the breeding books. Pony breeds such as German Riding Pony, Welsh A, B, C or D (Cobs), Connemara, New Forest Pony, as well as Thoroughbred, Arabian, Anglo-Arabian, small Warmbloods, are eligible for the Westfalen NA's Pony books. The Westfalen NA has books for Knabstruppers, Lippizzaner and purebred Haflingers as well. The Westfalen NA does not accept stallions of Draft crosses, Quarter Horses and other American breeds into its Stud Books.
2). I have a Quarter Horse/Appaloosa/Draft mare? Can she be inspected and entered into a mare book? What kind of papers will her foal get?
No, your mare is not eligible for entry into the Mare Books - but Yes, your mare can be inspected in order to make her foal eligible for a Horse Identification Document (HID), although she herself is not eligible for entry. This process makes her foals eligible for an HID passport - white paper passport and microchip instead of brand). If your mare is of sport type and receives eligible inspection scores but is missing some information on her heritage/pedigree, she may be eligible for the Pre-Mare book, and her foals would receive a Certificate of Pedigree (COP - white papered passport). Foals with COP's are eligible for All Breeds Awards.
3). I have a mare who is papered by another registry. Do I need to have her inspected again by your registry?
Yes. Under German rules and regulations all horses to be entered into our various breeding books must be personally inspected by the German Judges at a Westfalen NA inspection site. If your mare has already been inspected into the RPSI or Westfalen breeding books in the past, she does not need to be re-inspected, however.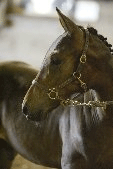 4). What paperwork/documents do I need to bring to the inspection with my horse?

Warmbloods and GRP's -- Original registration papers with one copy.
Thoroughbreds -- Jockey Club original papers plus a 4-generation pedigree (with one photocopy of each).
Foals at Mare's side -- A signed breeding certificate from the stallion owner/agent. Original and a copy of Mare's papers.
Weanlings and Yearlings -- The same as applies to foals, with the addition of DNA testing on offspring, sire and dam to prove parentage (Request a DNA Testing Kit or call for more information)
10). What are the fees?
Refer to our Price List.
5). Which horses need to have DNA typing done?
All Foals, Yearlings/Youngstock being registered will be required to have DNA typing done. Unregistered horses who are in need of pedigree verification will need DNA typing to prove parentage in order to receive registration papers. All stallions presented for licensing must have DNA parentage proof. New mares entering the Mare Books will be required to have DNA on file (either with RPSI, Westfalen NA, or another breeding organization) starting in 2015.
6). How do I prepare my mare and foal for the inspection? Does my foal have to be halter broke?
Refer to our Inspections page for information on preparing for the inspection. Foals do not have to be halter broke if they are at their dam's side, although it does make the inspection process easier if they have been handled and are halter broke.
7). Do I have to bring my horse physically to the inspection? Can't you approve her by video?
No. German Verband laws require that all horses inspected into the Westfalen NA books be physically inspected by the Judge.
8). What papers will I get from the Westfalen NA?
a). Foals will receive Official passport-style registration papers and a Microchip from the German Parent organization, the Westfälisches Pferdestammbuch e.V.
b). Mares and Stallions original papers will be returned to the owner the day of inspection. These papers will be stamped with the date, location and relevant mare or stud book, signed and notarized, and then returned that day.
c). Yearlings will receive foal papers as described above, however DNA testing must be completed to prove parentage on the yearling, to dam and sire. Westfalen NA can assist you with the DNA testing process.
d). All inspected horses will receive an official score sheet at their inspection. In addition, foals will receive their life registration number and microchip number printed on this official sheet, which can be used until their official passport arrives for breed shows, Insurance forms, USDF and USEF paperwork, etc.
9). When will I get my papers?
Foal papers are processed in Germany by our parent registry, the Westfalen Verband. Upon receipt at our home office, we then turn around and mail them to the owner of the foal at the time of inspection. We make every attempt to send these foal passports in the first quarter of the following year.
11). How do I change ownership?
You will need to send your horse's original registration papers (passport only - do NOT include the white Certificate of Ownership slip) to the Westfalen NA Headquarters along with a copy of the bill of sale (price may be omitted), a RPSI Change of Ownership Form, and a check for $60.00. Upon receipt, we will return papers via priority mail. For Westfalen registered horses, the process is the same - but use the Westfalen Change of Ownership Form