About the Registry
The Westfalen NA brings to North America a tradition of excellence in Warmblood breeding, as well as a dedicated, friendly, and approachable staff. For the past 20 years, The RPSI has been inspecting, registering and branding warmbloods and sport ponies at inspection sites across North America. Beginning in spring of 2017, we officially represent will officially represent the German Westfalen Verband in North America. Our new registry, the Westfalen NA, continues to provide inspection, registration services, guidance and awards programs for breeders - with some upgrades and developments as well.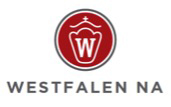 The Westfalen NA -
We are excited for the new opportunities this change will bring. Breeders can expect the same wealth of experience and expertise on the entire N.A. tour, and the same great customer service and breeder-centered marketing programs from the N.A. office. The inspection tour will remain the most extensive in North America - reaching practically every corner of the US and many parts of Canada, as well as offering the option for private inspections on-farm. Our WBFSH sanctioned passports will still be produced in Germany, but now the breed-name listed inside will be Westfalen. North American horses registered with the Westfalen NA are eligible to compete and breed in Germany, under the same rules as horses born in Germany, and breeders here get input and advice from the same German judges and officials who oversee the direction of sport horse breeding in Germany. The Westfalen-NA will continue to offer inspection eligibility for Warmblood mares/stallions from other accepted WB breeding organizations, as well as TB's, Anglo and Shagya Arabs. As before, German Riding Ponies, Haflingers and Knabstruppers will be eligible for inspection and registration.
The History -
The Westphalian Breeder's Association (Westfalisches Pferdestammbuch e.V. ) has been promoting breeding excellence since it was founded in 1904. For over 100 years the Westphalian Studbook e.V. in Münster-Handorf defines one of the most successful horse breeds in the professional sport. During the decades the Westfalen verband has taken great care and pride in the steady development of bloodstock that excels in show jumping, dressage and eventing. Famous stallions such as Pilot, Florestan I, Cornet Obolensky, Rubinstein I, and Damon Hill are cornerstones of the Westfalen Breeding Program, and their names are synonymous with international competition and breeding success.
The Brand -
The brand for the Westfalen district was created in 1906 when the Breeder's Association was initiated. The W inside a shield and crown has become a symbol of excellence, worldwide. All Westfalen NA foals will be permanently ID'd with a microchip, and for foals whose pedigree qualifies them for pink papers, the esteemed Westfalen brand with crown is an option!
What We Offer -
Westfalen NA uses top educated and qualified representatives directly from the German Verband at its North American Inspections. As in Europe, approved mares and stallions are entered directly into the Mare and Stud Books as they do in Germany, and foals are given a registration number at birth. This number follows the foal's show results, location, and breeding records, if applicable. Just as the RPSI has done from 2016 on, all foals will be microchipped, while branding is optional, if the foal qualifies by pedigree. Also all Westfalen NA registered foals will receive a complimentary USEF lifetime number!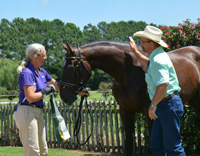 A Link from Past to Future -
The RPSI will continue on as an organization devoted to Awards and Member Services such as Ownership Changes and Duplicate Passport requests. The RPSI will continu to support all the Zweibrücker and Deutsches Sportpferd horses and ponies registered with the RPSI over the past 20 years. We're looking forward to celebrating Westfalens with a superb awards program as well. The RPSI was the first North American Warmblood breeding organization to offer its members the opportunity to market US-bred foals in a Select Auction Format - and we will be continuing this great tradition in the future!
Westfalen NA staff and judges travel across North America for three months each year on the annual inspection tour to see as many breeders/farms as possible. We carry the computerized German sport horse database (V.I.T.) with us on tour to ensure accuracy and up-to-the-minute information for breeders, as well as offering instant official temporary registration documents and score sheet printouts at the inspection site. Private on-farm inspections are also possible.
Our Motivation -
The main goal of the Westfalen NA is to preserve and expand the quality of sport horses in all disciplines on the North American continent. There is dedication to offer service, advice and stability for both the breeders and those purchasing and competing on Westfalen NA horses. North America is producing some of the highest quality equine athletes in the world. It is our job to ensure that the breeder receives the registration and promotion they deserve.
Breeding Standards -
Westfalen horses are bred for quality of movement, correctness of conformation and clear character for competition and reproduction. We believe that this foundation produces a superior athlete with high trainability and competitiveness.
Some Successful Westfalen Horses
Top genetics are at your fingertips, along with access to the expertise and Old-World symbol of excellence in breeding that is the Westfalen trademark. With such horses as Damon Hill, Pilot and Cornet Obolensky serving as cornerstones of the breed, What better representative of the Westfalen breed than 2016 World Cup Champion Corbinian with rider Steve Guerdat, or Legolas under Steffen Peters. and a Add to this a thoroughly modern, forward-thinking office, registry and marketing team parading the grand traditions firmly into the future of sporthorse breeding - there's no better place for your breeding program to call home than the Westfalen NA!
Some Successful Zweibrücker and Deutsches Sportpferd Horses
Many outstanding and internationally successful horses have come from the ranks of this breed, which the RPSI represented in North America from 1995 - 2016. The quality of the horses speaks for itself with Gold Medalist winners such as La Biosthetique Sam ridden by Michael Jung representing the DSP at the 2012 London Olympics. DSP Belantis by Benetton Dream just won the five-year-old class at the 2014 Bundeschampionate in Warendorf. Other familiar names in the news are Rocana, world champion in eventing, Chilli Morning ridden by William Fox Pitt, and the Bundeschampion 5 y.o. German Riding Pony jumper High Noon (Halifax x Chico).
Under the Zweibrücker breed name are such notables as Lucky Lord ridden by Margit Otto-Crepin in the 1996 Olympic Games, Romantico, a Zweibrücker gelding ridden by Robert Dover at the 1984 Olympic Games as well as Apricot D by Alexis, who is ranked as one of the top two most successful show jumpers of all time. His rider Hugo simon of Austria has achieved international success on two other Zweibrückers, Magnum and Amaretto D. Bred in the USA Zweibrückers include licensed stallions competing in N.America and Europe - Validation S (Silver Creek Farm) and Gallant Reflection HU (Horses Unlimited), along with a host of top Hunter/Jumper, Eventing, and Dressage competitors bearing the RPSI brand. Learn More about the RPSI's History...