Westfalen NA Inspections Eligibility
General Requirements

In order to be registered as Westfalen breed, horses must meet certain pedigree requirements. Warmbloods registered with the following recognized warmblood breeding associations are eligible for entry into the Mare and Stallion Books upon verification of eligible pedigree and upon receiving eligible inspection scores: German Oldenburg Verband, Hanoverian, Holsteiner, Trakehner, Swedish Warmblood, Dutch Warmblood, Belgian Warmblood, Westfalen, Rhineland, Deutsches Sportpferd (including member breeds such as Zweibrucker, Bavarian WB (Bayern), Baden-Wuerttenberg, Sachsen-Thueringen, Brandenburg-Anhalt). ISR/Old-NA., Canadian Warmblood, Thoroughbred (Jockey Club) and Anglo-Arabian horses are also eligible for entry into the breeding books. Which book will depend on Pedigree and Scores. Breeding books for Knabstruppsers, German Riding Ponies, Haflingers, and Lipizzans also exist. Draft crosses, Quarter Horses and other American breed are not eligible for the Mare or Stallion books. Offspring of Stallions of Draft or Draft crosses, Quarter Horses, Paint, Appaloosas and other American breeds are not eligible for the stallion books and cannot be presented as a stallions. Offspring of ineligible breeds are eligible for HID (Horse Identification Document) passports and microchips, which make them eligible for USEF Age Verification classes.
Stallions
Stallions may be inspected at age 2 ½ years or older for entry into a Stud Book. Drafts, Draft crosses, Quarter Horses and other American Breeds of stock type are not eligible for entry into the Stallion Books. Minimum Inspection score of 60 points and the pedigree requirements listed above are required for entry into Stud Book I. Stallions must complete a 30 and/or 70 day test, and if no 70-day test is completed, the stallion must also complete the minimum Performance Requirements in order to retain licensing in Stud Book I. RPSI Stallion Requirements...
Mares
Mares may be inspected at age 3 or older for entry into a Mare Book. All mares must meet the above pedigree requirements, with an overall inspection score of 6.0 or above, and no single score lower than 5, in order to qualify for entry into Mare Book I. In order to be eligible for Mare Book I the sire, sire of dam, granddam and grand-granddam (4 generations) must be Stallion Book I stallions. The dam of the mare must be in Mare Book I or II. Mares with adequate pedigree but with an average score of 5, and no individual score lower than 4 at their inspection will be entered into Mare Book II. Mares who do not meet the pedigree requirements for Mare Book I will be entered into Mare Book II or Pre Mare Book. Mare Book II mares when bred to a Stallion Book I Stallion will produce pink-papered, full-branded foals. Pre-Mare Book mares when bred to either Stallion Book I or II Stallions will produce foals eligible for Certificates of Pedigree (White Papers/Half Brand).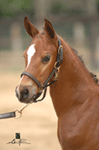 Foals
Foals are to be inspected at their dam's side. Pedigree requirements for Mare and Stud Book I also apply to foals eligible for full pink German papers and a full brand. Foals sired by Stud Book II recorded stallions and/or out of Pre-Mare Book mares will receive white registration papers (Certificate of Pedigree) and a half-brand (W with no crown). All foals registered Westfalen NA receive a USEF Lifetime #. DNA is required for registration in addition to a Breeding Certificate signed by the Stallion Owner/Agent.
Sport Ponies


Westfalen Sport Pony books are open to ponies of riding/sport type, being generally between 13.2 and 14.2 hands high. Westfalen Riding Ponies receive the W brand and full passport-style registration papers. The following breeds are eligible for inspection, branding and registration: German Riding Pony, Welsh Section A, Welsh Section B, Welsh Section C, Welsh Section D, Connemara, New Forest Pony, Anglo-Arabian, Arabian, Arabian Partbred, Warmblood, Thoroughbred... Call or email for a complete list of eligible breeds and bylaws.