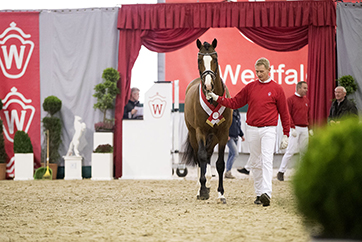 Westfalen NA / RPSI now Excusively Representing the Westfalen Verband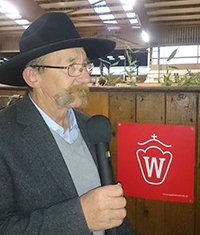 For the past 20 years, the RPSI has become a familiar face and brand to sport horse breeders across North America. We have driven thousands of miles each year –through hurricanes and blizzards, clear skies and downpours, dust storms and even national disasters, to meet you – our breeders – at your farm or inspection site, to register and brand sport and breeding prospects in every corner of North America.

Beginning in spring of 2017, the RPSI will officially represent the German Westfalen Verband in North America. We are excited for the new opportunities this change will bring. Breeders can expect the same wealth of experience and expertise from stud book director Otto Schalter on the entire N.A. tour, and the same great customer service and Breeder-centered marketing programs from the N.A. office. The inspection tour will remain the most extensive in North America - reaching practically every corner of the US and many parts of Canada, as well as offering the option for private inspections on-farm. Our WBFSH sanctioned passports will still be produced in Germany, but now the breed-name listed inside will be Westfalen. All foals and horses receiving registration passports will also receive a microchip, as before, all foals will be issued a complementary USEF lifetime registration number, and DNA typing is also mandatory. The Westfalen NA / RPSI will continue to offer inspection eligibility for Warmblood mares/stallions from other accepted WB breeding organizations, as well as TB's, Arabians, Anglo and Shagya Arabs. As before, German Riding Ponies, KDR's, Haflingers and Knabstruppers will be eligible for inspection and registration. Mares and Stallions already inspected into the RPSI mare and stallion books will automatically be entered in the equivalent Westfalen mare or stallion book, with no additional inspection or fee required.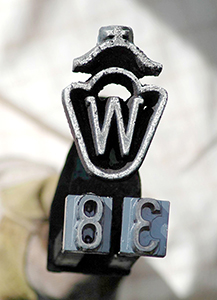 What will be different besides the breed-name? The brand of course! Now foals registered with the Westfalen NA/RPSI will receive the esteemed W brand of our parent organization, proudly carrying the mark of quality and market-appeal! The Westfalen Verband (Westfälisches Pferdestammbuch e.V.) has been promoting breeding excellence since it was founded in 1904. For over 100 years the Westfalens have taken great care and pride in developing bloodstock that excels in show jumping, dressage and eventing. Famous stallions such as Pilot, Florestan I, Cornet Oblensky, Rubenstein I, and Fürst Piccolo are synonymous with international competition and breeding success, along with more modern superstars such as Damon Hill and Colestus. What better representative of the Westfalen breed than 2016 World Cup Champion Corbinian with rider Steve Guerdat, or Legolas under Steffen Peters. The RPSI is looking forward to implementing new programs and promoting NA-bred Westfalen horses just as effectively as their German-speaking cousins!
The RPSI will continue to proudly support all the Zweibrücker and Deutsche Sportpferd horses and ponies registered with the RPSI over the past 20 years with our great awards programs, as well as ownership changes and duplicate passport requests. And we're looking forward to celebrating our N.A.-bred Westfalens with a superb awards program as well.
Top genetics are at your fingertips, along with access to the expertise and Old-World symbol of excellence in breeding that is the Westfalen trademark. With such horses as Damon Hill, Pilot and Cornet Oblensky serving as cornerstones of the breed, and a thoroughly modern, forward-thinking office, registry and marketing team parading the grand traditions firmly into the future of sporthorse breeding - there's no better place for your breeding program to call home than the Westfalen NA / RPSI!
Please email info@rhpsi.com or call Ann at 605-669-2200 for more information, as well as for interest in the upcoming 2017 Westfalen NA / RPSI Inspection Tour.
Click Here to Fill out a 2017 Inspection Survey Form