2013 RPSI Breeders Tour

See 2013 South German Stallion Approvals Auction Results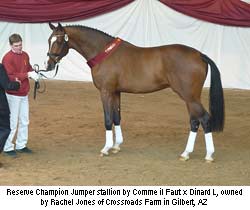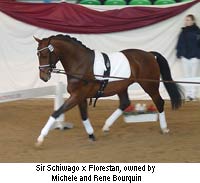 RPSI Breeders Don't Come Home Empty Handed from South German Stallion Approvals Tour
Six breeders took part in the annual RPSI Breeder's tour organized and led by RPSI breeder and judge Ann Daum Kustar to the South German Stallion Approvals in Munich, Germany, January 24-26th, ... and they did not come home empty handed!
After a fast-pitched bidding war for the Reserve Champion Jumping stallion, a brilliantly typey and knock-out jumper son of Comme il Faut (Cornet Oblensky x Retina Z), out of a Dinard L x Pilot dam, Rachel Jones of Crossroads Farm, Gilbert AZ, held the winning bid of 80,000 Euro for the much-talked-about bay colt. This super modern young stallion will be standing at the PRPS headquarters in Germany for the 2013 season, with frozen semen available in the USA.
At the end of the day, the breeders all had an excellent time seeing this top quality and diversely bred group of 80 young dressage and jumper stallions in one place, and everyone came away talking about plans to come back next year! With unlicensed stallions selling from 5,000 euro, licensed stallions opening bids at 8,000 euro, this auction is the place to come for top young warmbloods for sport and breeding.
The South German Stallion Approvals offer breeders, riders and trainers an unparalleled opportunity to shop for young stallion and competition prospects early in the season, as well as learn more about the bloodlines and selection process in Europe. The learning opportunities (and horse shopping) together with the ambiance, makes this approvals and auction a must-see. As a final consideration, the variety of bloodlines and types at this cooperative approval is both interesting and educational, for a breeder. We're planning for a relaxed, fun and educational time in Munich - we hope you can join us!
Please email marketing@rhpsi.com for more information on the 2014 tour!
Download Warmbloods Today magazine's article on the 2011 South German Stallion Approvals
Read about one US Breeder's trip to the last year's South German Stallion Approvals and Auction
Last Year's (2012) South German Approvals/Auction Stallion list with Video