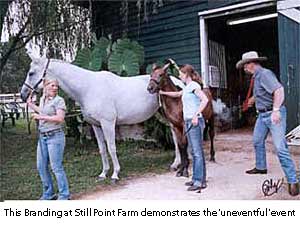 German Stud Book Director Otto Schalter brings his expertise from judging keurings both in Germany and North America, and reveals some secrets about how to breed for success, and follow that up with a successful inspection day.
1). As inspection time is coming, I've been thinking about having my foal branded. What is involved in branding a foal? How long does it take, and is the foal stressed by this, in your opinion? Are all warmblood foals branded in Germany? How about the rest of Europe? Do you have different brands for different foals? Why should I have my foal branded?
Up until now, all warmblood foals in Germany get branded. The branding is simple, easy and usually does not stress a horse (more so the owner - by making the horse/foal nervous). When you see them walking away looking like -- OK, the "bad fly" is gone -- you see that it is not stressful. Not every breeding organisation in Europe is branding - but most of them are. For the Warmbloods we have two different brands. The bridge with the crown and the number beneath for foals by Stud Book 1 stallion and Mare Book 1 or Mare Book 2 mares. The bridge alone with the number beneath for foals by Stud Book 2 stallions and foals out of Pre Mare Book or only Recorded mares. I still believe that a brandmark with the specific symbol and the number is a very good visiable identification mark. Especially in the US where a lot of horses lose their papers.
2). How many Zweibruckers are there in Germany? In the USA? Can you tell me some famous/successful Zweibruckers/RPSI horses so I can brag when people ask me about my breed?.
In total I guess that in Germany we have around 20,000 Zweibrückers. In the USA I asume that the number should be around 3,000 to 5,000 Zweibrücker horses.
Le Mans - intern. jumper ridden by Meredith Micheals -Beerbaum
Leonberg - Grand Prix winner; in the top 50 WBFSH list; competed 2009 in Rotterdam and Aachen under Danish rider Mikala Gundersen (Owner: Horses Unlimited)
Felix - Jumper; WC finals Las Vegas 2008 under Californian Rider
Cassinga - International jumper under Rolf Göran Bengsston (SWE) now Beat Mändli (CH)
Calypso Star - Dressage; Grand Prix winner under Californian rider
L'Etoile - Jumper; winner Youngster Tour Wellington 2009
Cedric - Jumper; GP winner with Wilhelm and Theo Genn/USA
Audrey D - Jumper; 3rd place European championships
3). How long is the inspection tour going to be this year? Do you fly or drive around North America? What is your favorite part of the inspection tour?.
The RPSI inspection tour started on July, 27, 2009 and will finish at the very end of September. Beside one flight (Oregon to Denver, CO) the whole inspection tour is done driving by car.