Interview with Sven Frei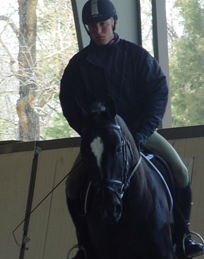 "I was impressed with the quality of the stallions and facility," Sven said. "I love traveling and meeting people, and I'm interested in where breeding is headed. All the pieces are here in North America - the stallions, mares, breeders. It's just a matter of plugging it all together."
Sven's job as a test rider for the finals began the morning after he arrived, when he met the stallions for the first time.
"First I watched the stallions go under their usual training rider," Sven explained. "I got the general idea of how I should ride, to show them off at their best. I watched the rider to see if that stallion needed a soft, close leg, and just to know what to expect. When I ride, I look for suppleness, lightness, reaction to my leg, and just the whole mannerism. Overall, if this were my stallion, I ask myself, would I be proud of what I'm riding?"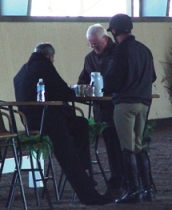 Sven has done his share of catch riding in the hunter/jumper ring too, but test riding young stallions, then being asked to deliver a score for each stallion's rideability, is a little different.
"Dr. Nebe suggested we really ask them to move on. Don't be afraid to step on the gas, he said! So we tested their range, and their reactions. But still, this is an evaluation, and not a horse show. So I like to think there's a little less pressure. I want to try to do a good job on every horse."
And which stallion was Sven's favorite?
"They're nice stallions. I liked Vallado the best. He's very modern, and he did everything I asked him. He's very, very rideable."
"Overall, I think the whole concept of a 30-Day test is very good," Sven concluded. "I understand it's very new to North America. I applaud the RPSI for all their efforts - they are doing the right thing, flying the judges from Europe, using an unbelievable facility like this, everything. And they are contributing greatly to the horse industry. The breeding, promoting, and everything that goes with it."